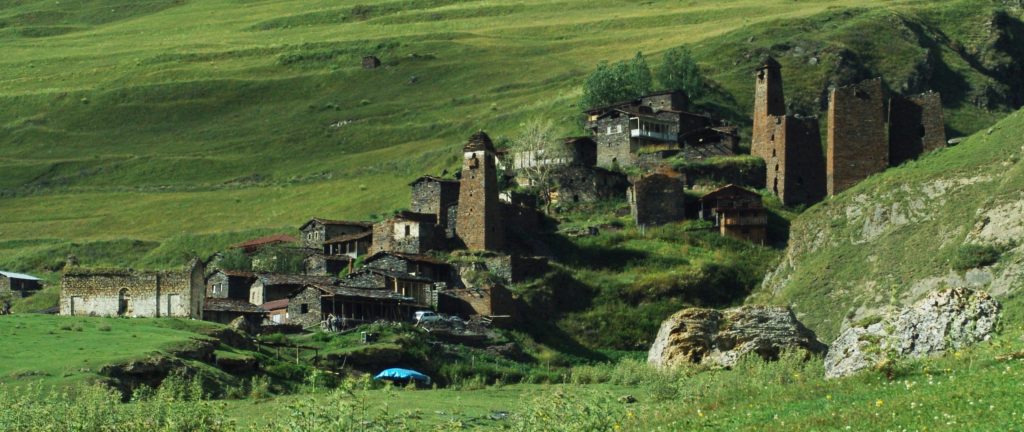 Tour Code -
WTE 008
Tusheti
Day 1 : Tbilisi - crossing Abano pass (about 3000m a.s.l.) - Omalo - Keselo Towers.
Driveup to Tusheti, along the steep and dangerous mountain road province by crossing Abano Pass at about 3000 metres and then down to valley in Omalo village. In the evening hike to tall and formidable Keselo Towers. Overnight in Omalo.
Day 2 : Omalo - Dartlo - Kvavlo - Parsma - Omalo
Drive to village Dartlo. Hiking also up to Kvavlo. Visit Parsma. Return to Omalo.
Day 3 : Omalo - Shenako - Diklo - Alaverdi Cathedral - Tbilisi
On the route to Tbilisi, visit Shenako, Diklo villages and Alaverdi Cathedral. Return to Tbilisi.
Tusheti most popular tourist destination and mountain trekking venue. Located on the northern slopes of the Greater Caucasus Mountains, it is one of the most ecologically unspoiled regions in the Caucasus. A steep and dangerous mountain road and beautiful views from high passes, an high waterfuls and steep trails, undiscovered world of wildlife all this is dream world for adventure seekers. On the top of high mountains placed villages with erect very impressive architecture and tall formidable towers. Because traditionally, the Tushs are sheepherders, they cheese "Guda" is a high quality and famous. The locals spend the summer months high up in the mountains between April and October, with the flocks of sheep in the highland areas of Tusheti. Therefore sheep and cattle breeding is the leading branch of the economy of highland Tusheti. This trip will be your excellent weekend holidays.
Crossing Abano Pass about 3000 m. above s. l.