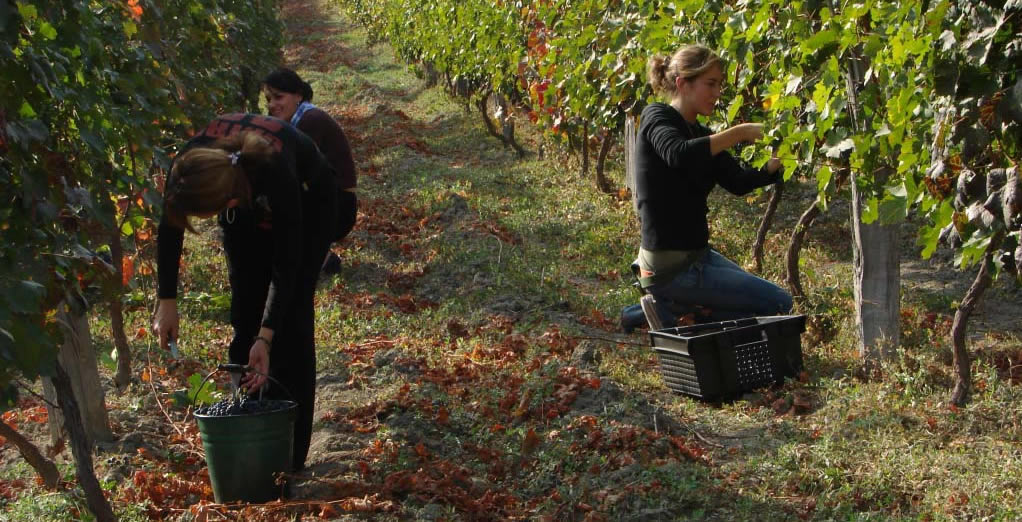 Tour Code -
HF 001
Harvest festival
Day 1 : Arrival in Tbilisi.
Arrive in Tbilisi and transfer to the hotel. The rest of the day at leisure with no guided activities. Pre-tour briefing at 18:00 at the hotel and after that Welcome dinner.
Day 2 : Tbilisi - vineyard - Grape picking - wine cellar - Winery activity - Wine Tasting.
On the first day of the harvest festival drive to Kakheti region, where in our vineyard you will take part in the grape picking. In the vineyard we will fry barbecue and enjoy wine. Meanwhile, grapes will taken in our wine cellar. Guest'll have the opportunity to press the grapes in the fermentation clay jars. At the end of activity lunch and wine tasting from our collection. In the end of the day drive to Shato Schukhman located at the heart of Georgia's wine-growing regions. After wile Dinner. Overnight in Shato Schuchman.
Day 3 : Tsinandaly - cheese making class in local Cheese factory - Alaverdi Monastery wine cellar - Wine Tasting - Cooking class - beekeeper farm - Shukhman winery
At the beginning of the day visit the residence (now the house-museum) of most famous noble family, poet and public figure Al.Chavchavadze, in Tsinandaly. After visit Cheese factory "Tsivi Kveli", excursion and chees degustation. Then visit to Alaverdi monastery. During Excursion in visit Alaverdi cathedral, archaeological excavations and monastery wine cellar, where you'll taste 3 kind of monastic wine. After lunch in the restaurant next to the monastery, visit the beekeeping farm, where you'll find a lot interesting about the bees, about their life, care for them, etc. Try and compare honey of different seasons, at the end try honey-vodka prepared by beekeepers. Finaly return in Shato Schukhman, after small break, Coocking class, wine and meal pairing.
Day 4 : Sighnaghi - Wine tasting - Bodbe Monastery - Tbilisi
On the way to Sighnaghi visit Khareba winery. After excursion and wine tasting drive to Sighnaghi – one of the most beautiful cities, located at the heart of Georgia's wine-growing regions. It is surrounded by defensive walls and towers, as well as its picturesque landscapes, pastel houses and narrow, cobblestone streets. Lunch. After lunch visit Bodbe Monastery. Drive to Tbilisi. Check in hotel. Dinner.
Day 5 : Tbilisi Clasical Sity Tour - Cooking Class - Wine Tasting
Today we have classical city tour. We can enjoy breathtaking views of the charmed Old Town, with narrow streets, colorful houses, carved balconies and magnificent atmosphere. Mount Mtatsminda - architectural and artistic symbol of Tbilisi, Trinity Cathedral (tallest church in Georgia),visit the State Museum of Georgia, Metekhi Church (13 th cc), Old Tbilisi, Sulphur Baths, Narikala Fortress (5th-6th cc.), Sioni Cathedral(6th-7th c.c) and Anchiskhati churches (6th cc.). Overnight in Tbilisi.- Cooking class. During the master class guest themselves will cook meals and shear it to everyone. Return to Tbilisi.
Day 6 : Mtskheta - Svetitschoveli Cathedral - Dzalisa Archaeological Site - Château Mukhrani Winery - Kutaisi
Visit Mtskheta, the ancient capital of eastern Georgia and still an important cultural and religious center. One of the holiest place in Georgia. Mtshkheta is designated as a UNESCO World Heritage Site. Visit Svetitskhoveli Cathedral, recognized by UNESCO as a World Heritage Site. Visit Dzalisa (2nd c A.D.), significant archaeological sites of the Classical period on the territory of the kingdom of Kartli (Iberia). Inter-crossing streets, squares, baths house adorned with outstanding mosaics of Dinos and Ariadna. Drive to the wonderful world of Château Mukhrani, for discover the Georgian royal family history and breath-taking legends, a flavor of antiquity and enchanting wines. The wine tasting and lunch in the restaurant "Samepo Marani 1878" (Royal Cellar 1878). with traditional Georgian dishes. After culinary journey, Drive to Kutaisi. Overnight in Kutaisi. Dinner.
Day 7 : Kutaisi - Racha - Cooking class – 3 Wine Tasting - Kutaisi
At the morning leave Kutaisi and drive through picturesque Rioni gorge and visit winery in Tvishi village. After tasting local wine Tvishi wine we continiu our journy towards the nice nature at Nikordziri waterfall and continue driving to the center of Racha-Lechkhumi region – Ambrolauri. After lunch break visit wine factory Royal Khvanchkara where we will tast local wines. Afterwards we will drive to the west slope on Khvamli. On the way we will see Lajanuri water reservoir and cross Orbeli pass and from where we will enjoy magnificent views. We will approach unique vineyard of Usakhelauri and try this, the most expensive wine. Dinner after return to Kutaisi.
Day 8 : Kutaisi sightseeing – Gelati monastery - 2 Wine Tasting - Tbilisi
At the morning excursion in the ancient city Kutaisi. First of all visit Gelati monastery and academy, established by the great Georgian king David IV the Builder. The most wonderful in Gelati complex is its frescoes and mosaics (12-14th c.). Then visit Bagrati Cathedral, that was erected in Kutaisi during the reign of Bagrat III. It was named after the first king of united Georgia. Both Gelati monastery with Academy and Bagrati Cathedral are included into the list of World Heritage sites of UNESCO. After all we leave Kutaisi and drive back to Tbilisi, but on the way we visit "Iagos" wine cellar. Overnight and Dinner in Tbilisi.
Day 9 : Free Day. Farewell dinner. Departure.
Free day, everyone can spend at their pleasure. In the of end of the tour at the evening farewell dinner.
Harves festival, is a perfect time to visit Georgia. Unquestionable, this tour is an unforgettable grape harvest experience and includes a visits to several vineyards and wine cellars, aswell mostly importantly, during harvest festival guests will be part of an exciting wine making process and Chacha distillation. Certainly few Culinary classes (in
"Badagoni Home"
) for preparing traditional Georgian meals, is one of the highlight of the tour. So harvest festival will give you unforgettable memories.
Easy 9 day trip, upon the request can organize in any date from 15 of September to 15 October.
Price includes :
Transportation and guide service, also one botle of water and wine tasting from the "Wine trails" collection.
Not includes:
 Services, undefined in the tour.
Additional information:
- Ladies require skirts and scarves in the Georgian orthodox churches,
- Short trousers are forbidden in the church.
Attention:
We suggest bring with: sport shoes and depend to weather forecast warm jacket or Raincoat, suntan lotion and hat.
---
What You Can Expect:
Excursions;
Visit 5 different wineries;
Tasting around 30 different wines;
Wine and food matching;
MATCHING FOOD & WINE, 3 COOKING LESSONS,