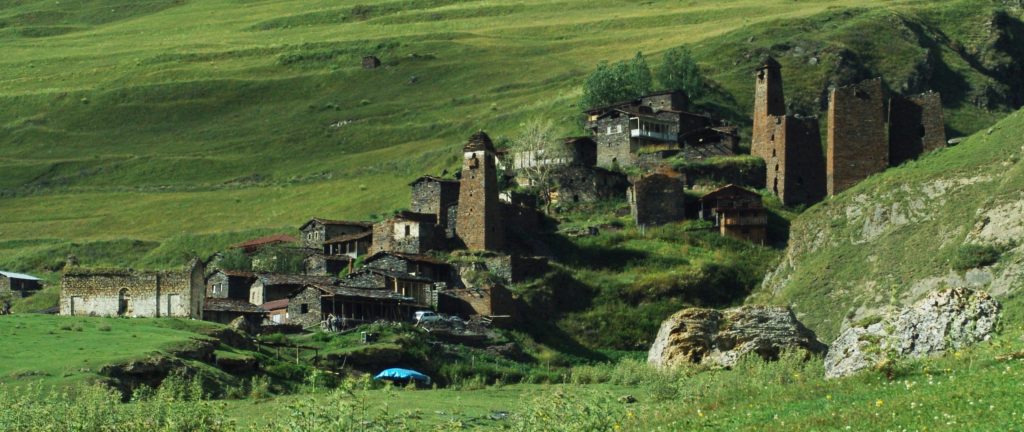 Tour Code -
AC 001
Wonders of Caucasus (Armenia, Georgia, Azerbaijan)
Day 1 : Arrive in Yerevan
 Meet in the airport and transfer to a hotel.
Day 2 : Yerevan - Geghard - Garni
Classical Yerevan city tour, then visit to Garni – a pagan temp
Day 3 : Yerevan - Khor Virap - Noravank - Yerevan
 Visit to Khor Virap monastery, situated in the Ararat Valley against the biblical Ararat Mountain. Continue to Noravank Monastery – a great religious and cultural centre. On the way visit Ararat brandy factory to taste famous armenian brandy. Overnight in Yerevan. Overnight in Yerevan.
Day 4 : Yerevan - Echmiadzin - Georgian border crossing - Akhaltshikhe
Visit Echmiadzin monastery. Drive to the North, drive toward to Armenian-Georgian border. Cross the border, overnight in Akhaltsikhe.
Day 5 : Akhaltshikhe - Rabati - Vardzia - Bakuriani
Rabati excursion, then continue to Vardzia. The magnificent cave town – Vardzia is one of the highlights of the trip. It stretches over half a kilometer along the river Mtkvari and has 19 tiers. There used to be about 3000 caves. It's got a church hewn out in rock with amazing 12th century frescos. The complex also includes dwellings quarters, small hall-type churches, refectories, wine cellars, pharmacy, etc. Overnight in Bakuriani.
Day 6 : Borjomi - Gelati - Kutaisi
In the morning we drive to Imereti province (West Georgia), which is very different from Kartli province (East Georgia) with its cool springs, green fields and beautiful gardens. Visit the pretty town of Kutaisi, the second largest in the country (antique town more than 3000 years old) and its historical places: Gelati Cathedral which is the UNESCO World heritage site– one of the earliest academies in Europe, and the splendid Bagrati Cathedral. Overnight in Kutaisi.
Day 7 : Kutaisi - Mtskheta - Ananuri - Gudauri Ski resort
Today we visit the ancient capital and religious center of Georgia – Mtskheta and see its historical places: Jvari Monastery and Svetitskhoveli Cathedral where the Robe of Christ is buried. Both Jvari and Svetitskhoveli are UNESCO World Heritage sites. Then we drive up the famous Georgian Military Highway, en route visiting the Ananuri complex . The drive is very scenic as it heads up into the Great Caucasus Mountains. Overnight in Gudauri Ski Resort
Day 8 : Gudaury - Stepantsminda - Gergeti Trinity Church - Tbilisi
 A stunning drive from Gudauri along the Tergi River will bring us to Stepantsminda – the main town in the region. From Stepantsminda a 2 hour walk up through beautiful valleys and woodland leads us to Gergeti Trinity Church. Weather permitting you may catch a glimpse of one of the highest glaciers in the Caucasus – Mt Kazbegi. We walk back to the town return to Tbilisi. Overnight in Tbilisi for 2 nights.
Day 9 : Tbilisi Sightseeing
Today we explore the historical part of Tbilisi with its narrow streets, colorful houses, carved balconies and magnificent atmosphere. This enchanting place illustrates a great mix of Orient and Occident. Our first destination is the Metekhi church. We can enjoy breathtaking views of the Old Town from this place. We continue walking to the Synagogue and then visit two important Georgian churches - Sioni Cathedral with its beautiful bell towers, mural paintings and the oldest church of Tbilisi - Anchiskhati. Afterwards we drive up to get a panoramic view of the whole city and walk down to the Narikala Fortress. The smell of sulfur gets stronger and we approach Sulfur Baths, which delighted Dumas, Pushkin, Lermontov etc. In the afternoon we discover the stunning treasury of the Georgian historical museum, before taking a stroll along Rustaveli Avenue – the main street in Tbilisi.
Day 10 : Tbilisi - Signagi - Bodbe - Tsinandali -Kvareli
In the morning we drive to Kakheti – wine growing region of Georgia. First we drive to visit fortified town of Sighnaghi. The town preserved its original image and now offers visitors stunning views of the surrounding Caucasus Mountains. Here we'll visit Sighnaghi Ethnographical museum with painting of famous Georgian painter – Pirosmani. Visit Bodbe monastery, that holds the tomb of St. Nino, the Cappadocian maiden who converted Georgian people to Christianity as early as 337 AD. Afterwards wine tasting in the Schuchmann's Winery. Continue to Tsinandali and visit local duke's estate from the 19th century. We'll walk in the beautiful garden and visit his house-museum. Continue to Kvareli. Overnight in Kvareli.
Day 11 : Alaverdi - Gremi - Nekresi - Azerbaijan border - Sheki
Today we visit Alaverdi cathedral (11th century) and Gremi fortress (16th century). Then we continue our way to Nekresi cloister complex, from where you get a wonderful view of Alazani valley. Continue to drive to Georgian-Azerbaijan border Lagodekhi. Arrival in Sheki. Overnight in Sheki.
Day 12 : Sheki - Shemakha -Baku
Sheki – Shemakha – Baku. In the morning drive to Baku. On our way we visit Diri Baba shrine in Maraza and seven tombs in Shamakha. Overnight in Baku for 2 nights.
Day 13 : Baku Sitseeng
Baku city tour.
Day 14 : Baku – Gobustan – Baku.
Drive to Gobustan, 65 km. Visit Gobustan rock paintings museum in the open air – UNESCO Heritage site and archeological museum.
Day 15 : Departure.
Transfer to the airport. Departure.
A detailed tour itinerary and prices is available upon request. As well we offer a private trip and are ready to make changes in the itinerary accordingly to your request.
4 - Wine and Brandi tasting
3 - Special folk music show