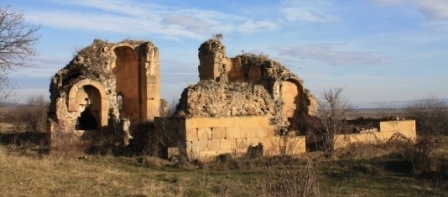 Tour Code -
WTE 002
Samshvilde - forgotten city
Samshvilde city abandoned, but not dead. When you walk through the deserted streets, discover several churches with frescoes and  inscriptions,  you feel the history.
Easy day trip, upon the request can organize in any date during the all seasons
9:00 - 9:30 - Our staff will meet you at your hotel;
Explore Samshvilde archaeological site
Free time;
19:00 - Return Tbilisi.
Price includes :
transportation, guide service, water, Wine tasting from the "Wine trails" collection,
Not includes:
 Services, undefined in the tour.
Transport  service:
The type of transport is determined depending on the group size (by car, minibus or bus).
Total distance - 150 km
Transportation time – 3 hours
Additional information:
- Ladies require skirts and scarves in the Georgian orthodox churches,
- Short trousers are forbidden in the church.
Attention:
We suggest bring with: sport shoes, depend to weather forecast warm jacket, Raincoat, suntan lotion & hat.
---
What You Can Expect
One of the oldest cities in Georgia, which lasted nearly two thousand years, from the VI-IV centuries BC, to the XVIII century.  Like many of the Georgian city of pagan times, Samshvilde have a clear plan.The city is surrounded  by  deep canyons.
Samshvilde was a thriving city, located on one of the caravan routes to the south. it was an important stronghold as well as a lively commercial and industrial city.  It is located in the country's south, near the homonymous modern-day village in the Tetritsqaro Municipality, Kvemo Kartli region. The ruins of the city , mostly medieval structures, stretch for a distance of 2.5 km in length and 400 metres (1,300 ft) in width in the Khrami river valley.
Visit the ruins one of the oldest city in Georgia, inscribed on the list of the National Heritage of Georgia;
The archaeological sites and architectural monuments;
Samshvilde citadel, whith massive walls and towers;
Places of Pagan and Christian worship
Tasting of two types of the wine from "Wine trails" collection and snacks.