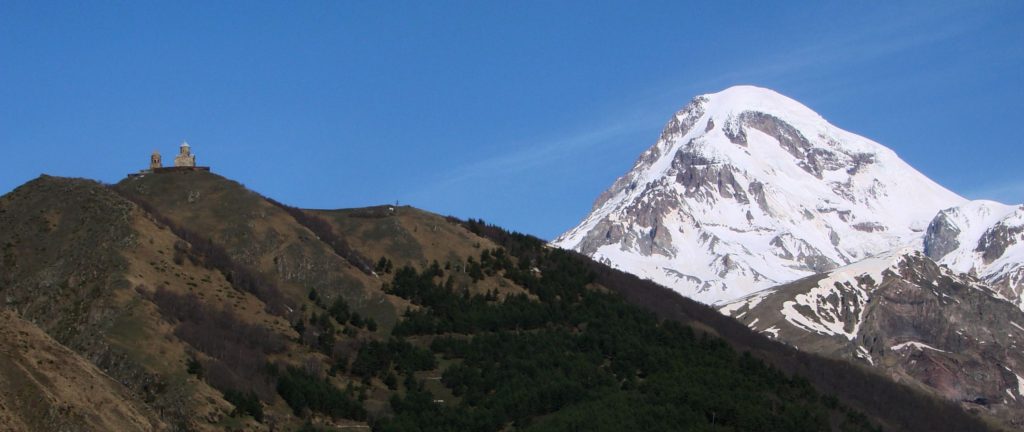 Tour Code -
WTE 004
Georgian Military Highway
Day tour to Georgian Military 
Highway is an amazing trip to one of the most picturesque regions of Georgia known as Kazbegi region.
Easy day trip, upon the request can organize in any date during the all seasons
Round trip is 350 km.
9:00 - 9:30 - Our staff will meet you at your hotel;
Drive to the Georgian Military Highway and follows the picturesque Aragvi River gorge;
Ananuri complex sightseeing;
Drive over the Cross pass (2395m) to Stepantsminda (Kazbegi);
Free time,
Uphill walking to Gergeti Sameba Church and back; or for extra payment (20 US $) around 90 minutes by jeep up a rough mountain trail.
 20:00 - Return to Tbilisi.
Price includes :
transportation, guide service, water, Wine tasting from the "Wine trails" collection,
Not includes:
 Services, undefined in the tour.
Transport  service:
The type of transport is determined depending on the group size (by car, minibus or bus).
Total distance - 350 km
Transportation time – 5 hours
Additional information:
- Ladies require skirts and scarves in the Georgian orthodox churches,
- Short trousers are forbidden in the church.
Attention:
We suggest bring with: sport shoes, depend to weather forecast warm jacket, Raincoat, suntan lotion & hat.
---
What You Can Expect
Ananuri a former residence of Aragvi Dukes. Complex featuring churches and towers dating back to the 16th- 17th cc. is beautiful overlooking Zhinvali reservoir.

The fortifications consist of two castles joined by a crenelated curtain wall,

Within the complex, amongst other buildings, are two churches. The older Church of the Virgin, dates from the first half of the 17th century, and was built of brick.

The larger Church of the Mother of God, built in 1689 . It is a central dome style structure with richly decorated façades, including a carved north entrance and a carved grapevine cross on the south façade. It also contains the remains of a number of frescoes.

The Russian-Georgian Friendship Monument, or "

Panorama

". The  Soviet monument was built in 1983 to commemorate 200 years anniversary of the Treaty of Georgievsk (1783). This agreement established Georgia as a protectorate of the Russian empire.  Interesting mosaics depicting scenes from the history of Georgia and Russia.
Gergeti Trinity Church (Holy Trinity Church 14th century) is situated at an elevation of 2170 meters, under Mount Kazbegi. Is the only cross-cupola church in Khevi province. The separate bell tower dates from the same period as the church itself. Its isolated location on top of a steep mountain surrounded by the vastness of nature has made it a symbol for Georgia. The church is now an active. Is a popular viewpoint.
Tasting of two types of the wine from "Wine trails" collection and snacks.