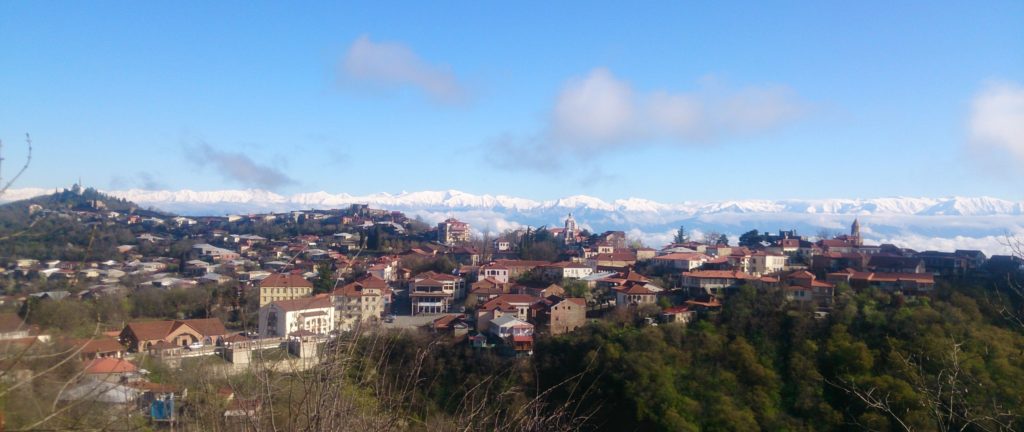 Tour Code -
WTE 003
Around Kakheti
Tour goes along Alazani valley. This region is a symbol of Georgian hospitality, friendship and tolerance.
The beautiful views and landscapes, interesting historical monuments and stories, that you will see, will unforgettable for you.
Easy day trip, upon the request can organize in any date during the all seasons
9:00 - 9:30 - Our staff will meet you at your hotel;
Bodbe Convent;
Explore Signagi;
Free time;
19:00 - Return Tbilisi.
Price includes :

transportation, guide service, water, Wine tasting from the "Wine trails" collection,

Not includes:

 Services, undefined in the tour.

Transport  service:

The type of transport is determined depending on the group size (by car, minibus or bus).
Total distance - 250 km
Transportation time – 3 hours

Additional information:

- Ladies require skirts and scarves in the Georgian orthodox churches,

- Short trousers are forbidden in the church.

Attention:

We suggest bring with: sport shoes, depend to weather forecast warm jacket, Raincoat, suntan lotion & hat.

---

What You Can Expect

Signagi serves as a popular tourist destination as well as its picturesque landscapes, pastel houses and narrow, cobblestone streets. The town is walled with the remnants of 18th-century fortifications. Signagi is known as a "City of Love" in Georgia, with many couples visiting it just to get married.
The Bodbe Monastery is nested among tall Cypress trees on a steep hillside overlooking the Alazani Valley, where it commands views of the Greater Caucasus mountains. Originally built in the 9th century.  The monastery is one of the major pilgrimage sites in Georgia, due to its association with St. Nino, the 4th-century female evangelist of Georgians, whose relics are shrined there. In 1924, the Soviet government closed down the monastery and converted it into a hospital. In 1991, after the dissolution of the Soviet Union, the Bodbe monastery was resumed as a convent.
Gremi is a architectural monument – is encircled by a wall secured by embrasures, the royal citadel, three-story castle, a bell tower, a wine cellar, remains of the secret tunnel, the Church of the Archangels wich was constructed in 1565 and frescoed by 1577. Gremi was the capital of the Kingdom of Kakheti in the 16th and 17th centuries. It functioned as a lively trading town on the Silk Road, being razed to the ground by the armies of Shah Abbas I of Persia in 1615. Since 2007, the monuments of Gremi have been proposed for inclusion into the UNESCO World Heritage Sites.
Tasting of two types of the wine from "Wine trails" collection and snacks.